Welcome to my Automotive web site!

This Web site features some cars I own or have owned in the past, some friends' cars, and some technical information I have gathered from some of the greatest automotive minds in the country. Even when speaking with some top engine builders, there are discrepancies and differences of opinions. I believe the information given here to be correct.

ATTENTION: MY '86 CUTLASS WAS STOLEN between 6:30-7:30 PM SUNDAY, AUGUST 8th 2004 FROM FAIRLAWN, OH. Any leads - please e-mail me at rpowers3@neo.rr.com or call the Fairlawn police at 330-666-8871.

During the winter of 2002 the 455 was worked on, and the TH-2004R transmission was installed and was running beautifully. I am pleased to say that I was also able to get some body work finished over winter too! Check it out for yourself!

The engine is a 455 cubic inch Oldsmobile V8. Some of the basic internal components of the engine are a nodular iron crankshaft, factory connecting rods resized with ARP rod bolts, ARP main studs with M & J Proformance 4340 steel main bearing support straps, a Milodon high volume oil pump with a 3/4" pickup tube feeding out of a Moroso 7 quart pan, a Mocal oil cooler and oil thermostat plumbed with 10AN braided line. Dick Miller Racing camshaft oil restrictors are installed, and the main bearing feed holes are enlarged. I used Keith Black #KB-132 hypereutectic pistons (free floating wristpins), yeilding a 9.3:1 actual compression ratio with some block and head milling.

The ported "C" code heads with 2.07/1.68" valves, Isky double valve springs, have the center divider brazed and the heat crossover passages filled with aluminum. They flow about 15% better than stock according to the SF-600 flow bench, and port to port flow equalization has been improved. The engine is topped off with an Edelbrock Torker intake with a little welding and porting on the outer 4 runners and a Stage II 800CFM Quadrajet by the Carb Shop. Note the Jacob's Ignition Pro Street Ultra Team (blue) coil visible. I made a set of inside the chassis headers out of Dynomax 1-3/4" big block A-body headers. The Walbro GSS307m Grand National in-tank electric fuel pump is performing flawlessly and quietly.

For more information on Olds specialty parts, see M & J Proformance's web site - CLICK HERE TO GO TO www.mjproformance.com






Other projects - This is the 1994 Chevrolet Caprice Station Wagon I drove until I sold it in 2010

First job was opening up the intake tract and removing the "home plate" baffle. Next came 2 Summit Racing brand welded stainless turbo mufflers to replace the factory mufflers on the dual exhaust. Then a Trans-Go shift kit, and a new GM Impala SS grille, jiggle ball painted to match, then new wheels and tires - these are 15" chrome steels off of a Chevy Indy Pace Truck wearing (stock for that vehicle) 275/60/R15 Firestone Firehawks. The latest mod was an A-pillar pod mounted 2-5/8" tachometer.






Under construction...

NEW!! - Video clips have been added! Check out the '86 Cutlass Page!



Send me an e-mail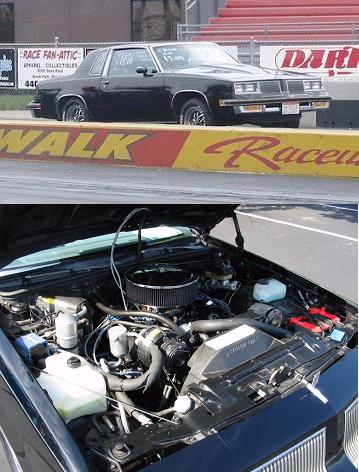 '86 Cutlass - 455 Olds powered
Oldsmobiles are my passion - See the " '86 Cutlass" page for more


The "Magic Bus" '94 Chevrolet Caprice station wagon

Why drive a wagon? Because it's the ultimate vehicle! 260HP LT1 350, rear wheel drive, 25MPG highway, hauls 4' x 8' sheets of plywood in style and comfort!